Large Education Trust Hire Inclusive Boards: Education Development Trust Seeking Two Experienced Trustees

 Education Development Trust have appointed diversity search firm, Inclusive Boards, to source new trustees. The organisation had a turnover of £65 million last year and operate internationally in markets including sub Saharan Africa, South East Asia and the Middle East. They also have a significant footprint within the UK delivering specialist education programmes, supporting school improvement, providing careers advice and leading a group of independent schools.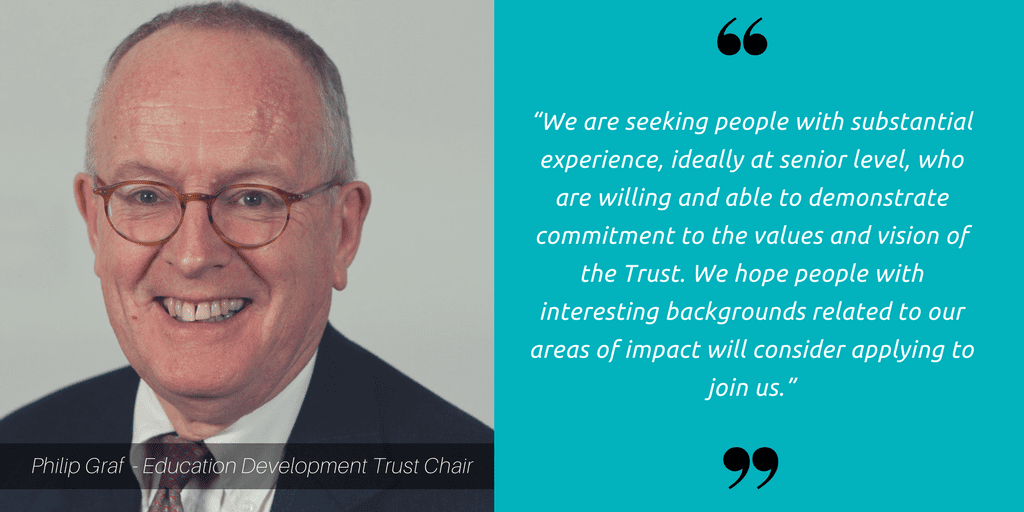 Governments across the world have relied on Education Development Trust's expertise to deliver education programmes as part of their drive to improve the life chances of their students. Education Development Trust is also a world authority on school inspection and evaluation having inspected schools around the world for more than 20 years.
From school improvement initiatives to the shaping of government educational policy on a national scale, Education Development Trust has played a significant role in shaping and changing school systems. Their global expertise has been proven over the last 50 years as they continue to deliver transformational programmes that leave a lasting legacy of positive change. The national search for two inspiring board members is now underway.
Click here 

or the application pack
For more information or to discuss the role please email: hello@inclusiveboards.co.uk
THIS OPPORTUNITY IS NOW CLOSED