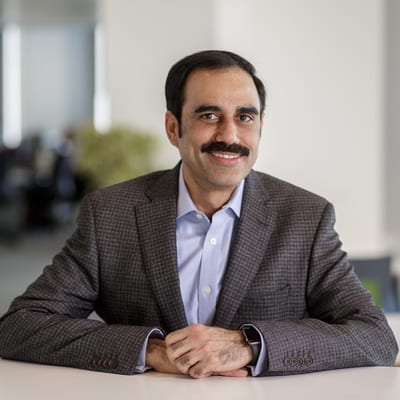 Ajay Bhalla
President of Cyber & Intelligence at Mastercard
Ajay Bhalla is President of Cyber & Intelligence at Mastercard and serves on the company's global management committee. His team develops product solutions that enhance safety, security and experience for consumers, merchants, partners and governments around the world.
Under Ajay's guidance, Mastercard has transformed from a pure-play financial services provider and payments network – that securely and conveniently processes over 75 billion transactions each year – to a technology solutions leader in many different fields.
Ajay is a passionate advocate of collaborative digital platforms that enable AI, biometrics, cybersecurity and digital identity to deliver positive social impact as we move into an age of people-literate technology. He views ethical considerations as core to future business success and is a firm believer in moving the conversation from compliance to 'doing the right thing'.
Ajay is a CEME (Council on Emerging Market Enterprises) Senior Fellow at The Fletcher School at Tufts University and a Connection Science Fellow at MIT.
Ajay sponsors Mastercard's Girls4Tech signature education programme, which drives STEM interest among girls around the world. Now in its fifth year, the programme has reached more than 400,000 girls across 25 countries.