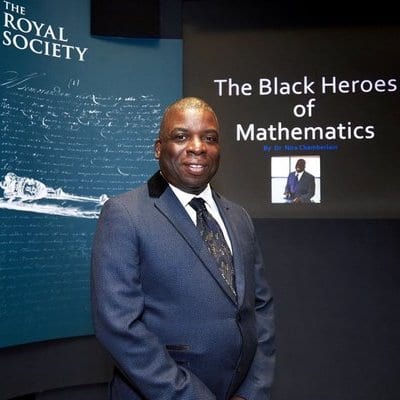 Dr Nira Chamberlain
President Designate of the Institute of Mathematics and its Applications (IMA)
Dr Nira Chamberlain is an eminent mathematician. In the last five years he has been recognise as the World's Most Interesting Mathematician, Science Council UK's Top 100 Scientists, Power List 5th Most Influential Black Person in the UK (2018), the first Black Mathematician to appear in the Who's Who. He has also been named as one of the Greatest Scientific Minds to come out of Loughborough University.
The holder of two mathematical doctorates (a PhD from Portsmouth University and an HonDSc from Greenwich University for "his inspirational and unique contribution to the field"); Dr Chamberlain currently has three positions; President Designate of the Institute of Mathematics and its Applications (IMA), Senior Data Scientist at Holland & Barrett International Technology and Visiting Fellow at Loughborough University.
Dr Chamberlain will become President of the IMA on the 1st January 2020.