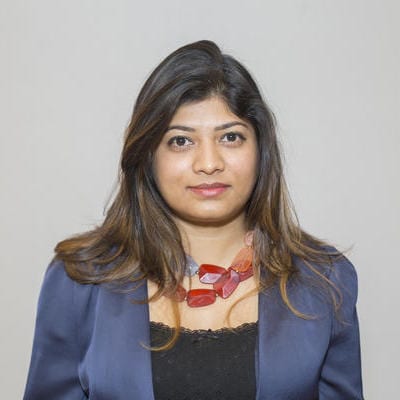 Joyeeta Das
Founder and Chief Executive of GYANA
Joyeeta Das is a true visionary, an Oxford Fellow, a motivational speaker and a techie who is also a serial entrepreneur. She is the founder and chief executive of GYANA founded in 2016 – a BigData and Artificial Intelligence tech startup in London. Gyana is a trillion-dollar vision, a new infrastructure for how any company can leverage data and AI with zero expertise.
In addition to this, she is Ambassador for Women in Innovation for UK department of international trade and has represented the UK at trade delegations such as the US-UK space mission, UK- Canada AI mission and the UK-Brazil Newton Fund Mission. She balances her art life and deep tech life effortlessly.
Joyeeta's activities have inspired many women (and men) to reach out to her and share their stories of courage and hope across the world.
• Her TEDx talk gathered 200+ emails from many unknown individuals across the world, and every time she speaks at the Oxford Entrepreneurial Society, or UCL.
• She has mentored at least 40 grad and post grad students in Oxford, UCL, Dartmouth(USA) etc.
• "Rising star 2019" award by EG Tech.
• "Women of the Year 2019" award by TiE – A Global Entrepreneurship Organisation.