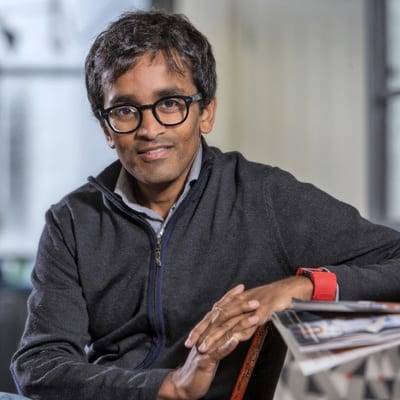 Suranga Chandratillake, OBE
General Partner of Balderton Capital
Suranga joined Balderton as a General Partner in 2014. He was previously an entrepreneur and engineer. Suranga founded blinkx, the intelligent search engine for video and audio content in Cambridge in 2004. He lead the company for eight years as CEO through its journey of moving to San Francisco, building a profitable business and going public in London where it achieved a peak market capitalisation in excess of $1Bn.
Before founding blinkx, Suranga was an early employee at Autonomy Corporation – joining as an engineer in the Cambridge R&D team and ultimately serving as the company's US CTO in San Francisco.
Suranga has a MA in Computer Science from the University of Cambridge. He holds patents in the area of video discovery and online video advertising and was awarded the Royal Academy of Engineering's annual Silver Medal for his work in the field. He was also elected a Fellow of the Academy in 2012 and was chosen as one of the World Economic Forum's Young Global Leaders in 2009.
In 2017, Suranga joined the UK Government's Council for Science and Technology. Suranga was granted an OBE for services to technology and engineering in the 2018 UK New Year's Honours.
Suranga invests across Europe.