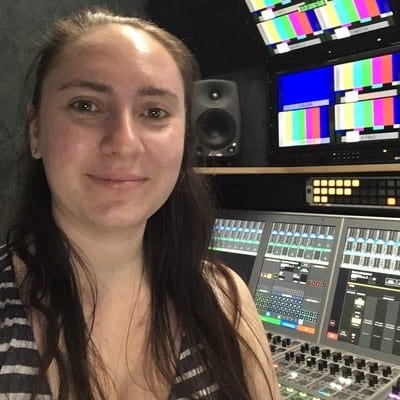 Anna Patching
Guarantee Sound Engineer currently working for NEP UK
Anna Patching is a Guarantee Sound Engineer currently working for NEP UK successfully delivering the audio and communication requirements on a wide range of international broadcasts.
Anna graduated in 2012 with a 1 st class BSc (Hons) in Broadcast Technology from Ravensbourne, a then affiliate of City University. During her studies Anna regularly freelanced as a sound engineer for outside broadcast providers, working on shows ranging from the 2010 Commonwealth Games in Delhi, to regular sporting fixtures and state events. A succession of traineeships with SIS Live and the BBC provided her with a solid grounding in a wide range of broadcast engineering disciplines. She was selected to be mentored as part of the inaugural RISE Women in Broadcast mentorship scheme. This allowed her to build a network of like-minded aspirational women who together push boundaries in the industry and increase diversity within broadcast.
Anna was the recipient of the 2015 Royal Television Society's Coffey Award for Excellence in Technology. In addition Anna volunteers as a STEM Ambassador and dedicates her spare time to promoting her industry and wider STEM careers to potential candidates.