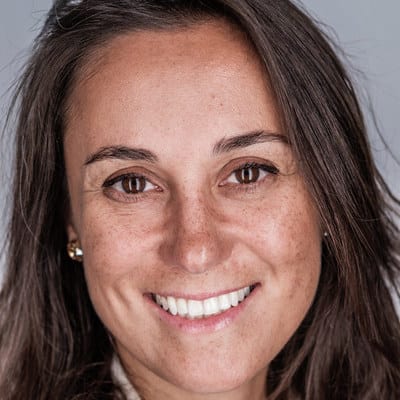 Daniela Barone Soares
CEO and a Non-Executive Director at the intersection of the commercial and impact worlds
For the past 13 years, Daniela has been a CEO and a Non-Executive Director at the intersection of the commercial and impact worlds, both in start-ups and in large corporate environments. She has extensive experience in leading organisations through sustainable growth and high performance. In addition to strategic and operational management and leadership, Daniela is skilled in developing institutional and complex multi-stakeholder relations, in change management, M&A and in sustainability.
Daniela Chairs a technology business (Gove.digital) and is a Non-Executive Director at a FTSE 100 company (Halma plc) and of Evora S.A.
Until recently she was CEO of Granito Group, which offers strategy consulting and financial advisory services to align the interests of people, profit and planet, working in commercial projects worth 600m. She remains a Senior Advisor for Granito.
Daniela is the former CEO of UK leading venture philanthropy organisation Impetus (2006-2015), managing a portfolio of social organisations with revenues of £250m+ and impacting two million is advantaged people. She also led two independent multi-stakeholder initiatives adding up to £200m. Daniela was a co-founder and founding trustee of the Education Endowment Foundation and an advisor for Big Society Capital and the G8 Social Investment Taskforce under Prime Minister David Cameron.
Much of her previous career has been in helping businesses to grow and expand internationally, working with private equity and venture capital at BancBoston Capital in the United States, Europe and in the UK (US$200m invested in growth capital). She also worked for Citibank in Brazil and Goldman Sachs in New York.
Daniela has a Bsc in Economics from Universidade Estadual de Campinas (Unicamp), Brazil and an MBA from Harvard Business School.
Awards and recognition:
Selected one of "20 People who are Changing Brazil and the World for the Better", by IstoE Dinheiro – alongside Elon Musk, Melinda Gates, Justin Trudeau (2017)
Featured in three books: "Família de Alta Performance" (2009), "Cultura de Excelência" (2017), "The Moral Marketplace" (2018)
Named as "Alumnae Leader" by Harvard Business School in celebration of 50 years of Women at HBS (2012)
Featured on national TV "Bom dia Brasil", as 'best in class' example of missionrelated work – viewership 6m+ (2010)
Selected as one of 13 top Brazilian women abroad for the documentary "Fora de Casa", run by Globo-GNT (2009)
Selected by the Independent on Sunday as one of 100 people who make Britain a better place ("Happy List" 2008)