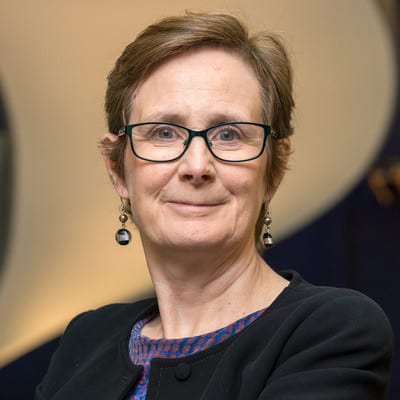 Dervilla Mitchell
Worked as an Engineer in the UK, United States and Ireland
Dervilla has worked as an engineer in the UK, United States and Ireland enjoying a wide range of projects with involvement from inception to completion. She is experienced in leading design teams where she enjoys working with end user clients and delivering solutions which realise the designer's vision and add value to the client's business.
The first female Chair at Arup, Dervilla has demonstrated her versatility throughout her career. She graduated as a Civil Engineer from University College Dublin in 1980 and through her career developed into a design manager and project leader. She has held Board and Executive positions, been responsible for staff groups, business leadership and has developed new business offers. She was appointed Chair of Arup's UK Middle East and Africa Region in April 17.
A significant part of Dervilla's career has been involved in Aviation projects at Heathrow, Dublin and more recently in Abu Dhabi. She led the Aviation Business for Arup over a number of years and more recently been appointed a Board member of the British Aviation Group Board – a trade association championing the interests of suppliers involved in aviation industry.
Dervilla champions diversity both within and outside Arup. She is currently Chair of the Royal Academy of Engineering (RAE) Diversity and Inclusion Committee. participating in events such as National Centre for Universities and Business (NCUB) 'Your Life' launch at Science Museum, London; Speaker at National Women in Engineer Day 'Women in Engineering: The Challenge' Conference June 14. Lead speaker at Women's Day events as well as the female undergraduate days
She was awarded a CBE for Services to Engineering in 2014 and received an Honorary Doctorate from University College Dublin in 2016.
Beyond the day job Dervilla gives time to excite and educate students about a career in engineering. She is a regular guest lecturer at Imperial College London, and has given talks at the University of Cambridge, University College Dublin as well as teaching at the Letterkenny Institute of Technology. Dervilla has been an invited speaker at events such as London International Youth Science Forum August 16, 2nd Grand Challenges conference in Beijing September 2015, and IABSE Young Engineers Conference – Future of design 2013. She also participates in events to attract school students into engineering including Speakers for Schools, Big Bang and Arkwright Awards as well as being active in careers fairs .