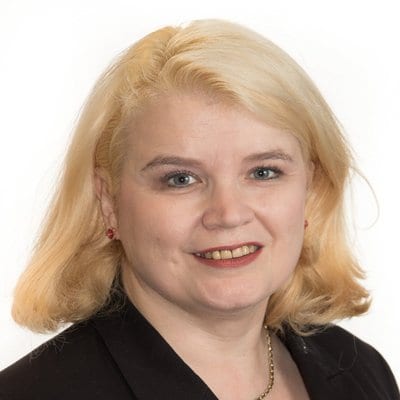 Elizabeth Donnelly
Chief Executive Officer of the Women's Engineering Society
Elizabeth Donnelly began her engineering career in the mid-1990s, when the company she worked for asked her to install the internet and email on every computer. This quickly led to a role in software development, installing large databases for local authorities. In parallel Elizabeth was politically active, standing as a Labour candidate in the general election of 2001 and the European elections of 2004. She also took time to study with the Open University, specialising in systems thinking, a subset of systems engineering.
Elizabeth's activism led to a role at Rolls-Royce from 2005-2008 lobbying government on behalf of Unite the Union, where she was instrumental in securing 800 jobs and the building of three new factories, for which she was awarded Membership of the Royal Aeronautical Society.
In 2008 Elizabeth went on to lead skills policy for ADS Group Ltd, the trade association for aerospace, defence and security and she was also elected as a National Women's Representative to the first Executive Committee of Unite the Union. Elizabeth was appointed by the Secretary of State as a Non-Executive Director of the East Midlands Regional Development Agency, where she was responsible for the region's diversity policy until its closure in 2011.
While at ADS, Elizabeth chaired the RAeS Education and Skills Committee and was a founder member and later Deputy Chair of the Women in Aviation and Aerospace Committee. Elizabeth also founded the RAeS Amy Johnson Named Lecture in 2011.
In 2013 Elizabeth established her own consulting company working with charities and universities to improve governance and operations. During this time, she also studied for an MSc in Systems Thinking in Practice from the Open University, graduating in 2017 and in 2019 Elizabeth was awarded Membership of the International Council of Systems Engineers (INCOSE).
In August 2018 Elizabeth was appointed as the Chief Executive Officer of the Women's Engineering Society. Within her first year she has turned the Society's deficit into a surplus, increased the potential social media reach of International Women in Engineering Day to 175 million and in conjunction with the Royal Academy of Engineering launched the UK's largest ever survey of engineers and their working experiences.
Elizabeth says, "Engineering is such an exciting career. Every day is different and there is so much variety in what you can do. We need to shift the perceptions of engineering away from it being a hard, dirty job into one that makes a difference. After all, engineers save more lives than doctors and it is engineers who will solve the most pressing issues like climate change and international migration, facing the world today."