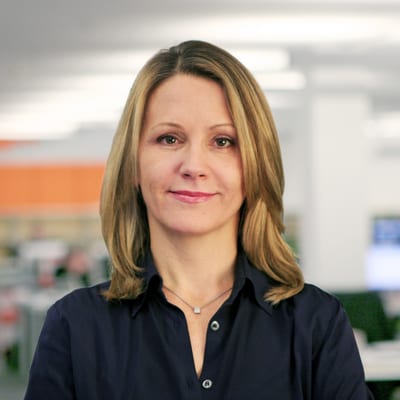 Eva Marie Hinkers
Chair of Arup in Europe
Eva Hinkers is the Chair of Arup in Europe, guiding the activities of the ten countries that make up the region.
Before that, Eva led Arup in Germany for seven years, managing our three offices in Berlin, Frankfurt and Dusseldorf. She has been with Arup for 25 years and is a project director for international and German projects in the building and construction sector with experience in many countries around the world such as Russia, Korea, China. Eva is responsible for the design of projects and client relationship management. Eva has led a range of complex work across sectors, including infrastructure and commercial property. Trained as a structural engineer, Eva has managed some of our most iconic sustainable projects including the new Seoul headquarters of Korean beauty group AmorePacific. Championing Arup's Total Design philosophy, Eva seeks to unlock value for clients and deliver high-quality work by bringing together all design disciplines from the start of a project. Eva also spearheads Arup's Sustainable Development portfolio across Europe.
Eva's background is in structural engineering. Growing up she really enjoyed doing natural sciences and never would have admitted it at school but found it really fascinating. She studied at FH Aachen University of Applied Sciences in Germany and gained her degree. Eva worked in London for a while, building her expertise, and then moved to Arup, through her work for a company based in Germany. She was the managing director of business in Germany for six years and then was responsible for sustainable portfolio of development in the Europe arm of the company, related to implementing the UN SPG's within it for the past two years. She has been a long time member of the German Association of Engineers
Her influence within the sector on so many projects after so many years is considerable. Implementing innovation and pushing the industry, is a common thread throughout engineering, so with Arup, this is something Eva continues to do on the technical side. However more recently she is more involved in management and leading people. Her focus is to ensure that the different European regions of Arup are joined in one commonality as opposed to separate operating regions.
Eva has received multiple awards in Germany, and was responsible for many years for organizing and leading various conferences around innovation and new materials. She received an award for that contribution to the Association of Engineers in Germany.
Regarding women in Engineering she says "I think that we recognized a long time ago that diversity is important and taking different views and that's not just limited to gender of course." In Germany over 6 years, I ran the operation and now in my new role, I'm doing it again. I think that has very much changed the way we do things and the kind of work we do and that has been my contribution" I did not feel discriminated against, not actively in a way that I felt I was being blocked and especially when I was still doing projects, it was often that I always realized that I had to prove myself before I was accepted so that especially earlier on in my career when I was a young engineer. Other than that slight unconscious bias, I haven't had a bad experience." Yes, it's changed, but it's still a man's world. It's also the culture, the atmosphere is very tough still, very male dominant.
In terms of diversity, Eva thinks that digital transformation is also helping with that because digital transformation brings teams together to work on a lot of data, it brings very different teams together from all ends to create something together that is tangible and Eva sees how that is changing. "The way things are done to proceed and how that works, being that young people working with experienced people because it's no longer true that 30 years of experience means that you can lead the process and all that I think is shaking things up pretty, in a positive way and I think that's a real driver for that to change as well"
Eva has some good advice also
I think the key moments in my career are where I was offered more responsibility and there was always this moment of "Oh my God, you know I can't do that" but to take that on and prove yourself wrong, I think that has been really key and I encourage you to do the same.
Do not shy away from responsibility.
Do not underestimate your abilities.