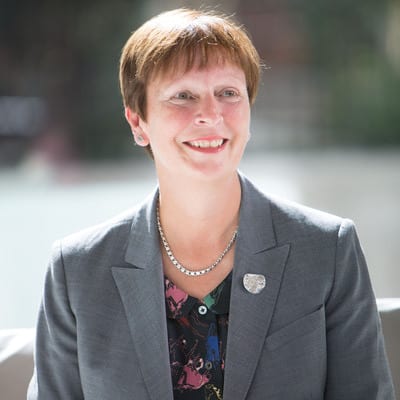 Gillian Guy
Engineering Sector and Safety
Very knowledgeable of the engineering sector and safety legal procedures of mechanical engineering and construction. She is very passionate about promoting mental health awareness in the engineering sector. Has faced a lot of barriers when entering the sector.
1. Could you summarize your current role?
Head of Health and Safety at Integral. We do the full range of MNE services. I look after the team of 12 professionals. Our job is carrying out safety instructions and ensuring our engineering and employees work in safe conditions. It is a very important job.
2. Could you tell me a bit about your background and any significant roles you've had before this?
I have been in safety for 27 years. I have a background in British Gas, started at 17 as I just left Business school. I went straight into work. I started in the pipeline office and looked after all the relationships with the farmers. I spent 2 years there and then moved to Londson to work as an Exec Assistant for the Executive Manager. And after I came back from Maternity leave there was no job for me, so I got offered a safety job. I spent the next 15 years in diff roles getting different qualification, such as Nebosh.
When I started in safety I was the only female safety officer in British Gas. I looked after the region in S-E of London. Then I got a bigger role, health and safety professional throughout the whole southeastern region.
Being female and relatively young in a completely male dominated industry, I learned to stand up for myself quickly. Being the only female in safety, makes you think you are the best you can be.
So after I went to work for a property firm CBRE, the biggest property firm in the UK. I wrote H&S in environmental management, gave them compliance and mechanisms to manage their risks properly. Successful – global H&S week that we set up ourselves, we encouraged all our managers to do safety initiatives, which included training, mock trials, court room scheme.
3. What drew you to the engineering sector?
I like engineering, while it can be rough and tumble, it is a great industry to get into. It is interesting due to the fact that there are a lot of projects you get into, from boiler maintenance to small charity shops maintenance. It can be as small or as big.
4. What is the greatest contribution you have made to the sector or your org? And what would you name as your greatest achievement?
Contribution: My value to Integral, I make it easy to comply with the law. Most H&S is common sense. I put complexity into easy english.
Achievement: when I moved to CBRE, there was no safety culture. Safety was seen as something that got in the way of business, I was able to see where I could make a difference and made safety as something important and that helps their business. Just as I left British safety council came to analyse CBRE, and the business won gold medals and won the standards.
Integral – it was very underdeveloped, so I have completely rewritten their safety procedures to fit the business. We have built a package of risk assessment. It is not done often in mechanical engineering. Building the new certification.
Board sponsor for mental health and wellbeing. ¼ of people do suffer from mental illness in engineering sector. My achievement was to show our employees what kind of benefits and things we can offer.
5. Is there anything else significant you have received like awards or recognition?
In the past, I was the Crown Estates property management of the Year.
2 Guardian angel awards from Rasper.
Over 10 years I must have had 16 gold Rasper Awards for all the companies I worked in and British Safety councils.
6. Did you face any barriers navigating through the sector and were any of these on the basis of your gender? How did you overcome those barriers?
YES, a lot!
When I first started in Safety I was the only female, I was also very young for a safety progression.
I had a lot of barriers. For example, I went into one of the projects and the male engineer at the project looked at me and said I know more about safety than you will ever know, so put the notebook down and go away. But you had to be tough! The positive aspect about working with men is when you showed how good you are, you earn their respect.
I studies as much as I could not to be blamed for being a woman in engineering, so I did a degree in occupational management and environmental studies.
7. How do you think the sector is doing from a diversity perspective?
I think the sector has progressed in the last 10 years, we are getting so many more female apprentices. It is for the better, different perspectives make a nicer place to work at.
8. What do you think the sector could do in terms of improving diversity and being more representative of people from different backgrounds?
In the last 24 months there is a lot more talk about things, now LGBT community is speaking out, which is so nice! People are not afraid to talk about their gender, Everyone has the right to be who they want to be.
9. How would you define your influence within the sector / your organisation? Is there anything in particular you would like to reference that demonstrates your influence?
Mental health and Wellbeing – I see my influence there, as I am taking this serious, we are giving our employees something back not only in work but outside too. We have done the mental health week for the first time ever. It increased the awareness of mental health problems. Making a difference to people's lives is a real influence.
10. What advice would you give to someone looking to be successful in the sector?
To the young girls – make sure you are technically as good as you can be! Be confident, do not let your gender to get in the way of your success. Does not matter what your ethnicity is, your gender etc, you will succeed. Work hard and continually grow, never doubt yourself.
Get yourself a mentor who is involved in the sector. Mentoring as is good as it could be in our sector.
Do not be afraid to ask the questions.