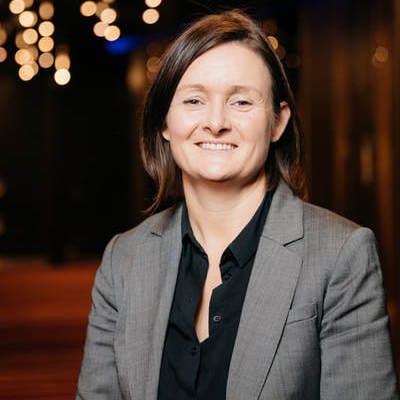 Rebecca DeNiro
Managing Director GB&I
Rebecca graduated from Newcastle University with an MSc in Economics and her career spans technology, non-food, consumer and B2B. Rebecca joined the graduate scheme for Pepsico before joining the healthcare business Reckitt Benckiser in the UK and Europe. During this period she followed a structured career in the disciplines of retail, account management, category insights, contract negotiation and organisational design giving her both breadth and depth in these disciplines.
The pivot in her career came in 2010 when she joined the engineering led business of Dyson. The difference in approach was monumental and the focus which has been the foundation of her time has been three simple things; solve the problems others ignore, engineer better technology and explain why it is different and look after our owners and our colleagues. The technology is at the heart of every conversation and this completely flips the conversation whether you are talking to an owner or a retailer. No longer is the conversation about commodity and price it's about how technology can change the way people live. Instead of putting a marketing manager in front of the field service or retail staff she asked the design engineers to introduce the products and to share their stories through design and build phases and to create memorable demonstrations. These stories are what has driven the engagement with internal staff aswell as the influence with external retailers to merchandise Dyson products in different ways ( think smoke boxes to demonstrate purification) and in different places ( think hair dryers in beauty halls)
In 2010 she joined Dyson to lead the B2B business with the first hygienic handryer encompassing heap filtration before setting up the international sales structure to ensure the best practise of our technology led approach was consistent globally. Rebecca is Dysons Managing Director GB&I with a mission to drive transformational growth through product innovation and significant model change. As MD Rebecca leads a team of 1000 and has launched two new technology categories to market with purification and personal care (hair dryers and stylers). A stand out experience was the launch of the personal care category into the market, achieving 60% value share within six weeks and gaining industry recognition and awards from trusted reviews, vogue, glamour. She completely challenged the norm and the planned approach by limiting the distribution points at launch in order to gain complete control of the customer experience giving the Dyson stylists the ability to tell the engineering story and demonstrate the technology. It wasn't a popular proposal to launch in 100 doors compared to the 3000 doors of existing distribution but her tenacity paid off and demonstrated the highest return of any market globally in year 1.
In the last 12 months Rebecca has focussed on digital technology flipping the media model to an audience led approach, targeting new digital out of home and geo targeting technologies to ensure that the right message is delivered to the right person through the right medium. This has unlocked the ability to personalise the message and drive efficiency of media spend. Additionally she has built a central information and analytics team to ensure that insights and decision making are data led and provide one source of the truth in order to drive pace for transformation and build data learning.
Alongside her commercial responsibilities Rebecca is chair of the global employee led engagement initiative, sponsor of the lean-in project and part of the LGBTQ committee. She is passionately committed to driving the diversity and inclusivity agenda both within her business unit and globally. Externally she sits on the boards of AMDEA, and Newcastle University International Business school. An active member of critical eye, mentoring talent internally and externally and a judge for European women in sales awards. Rebecca is people led and runs a full engagement calendar with three pulse surveys a year, an employee led calendar of activity e.g. podcasts to ensure transparency and authenticity to drive her ultimate goal of making Dyson a great place to work.