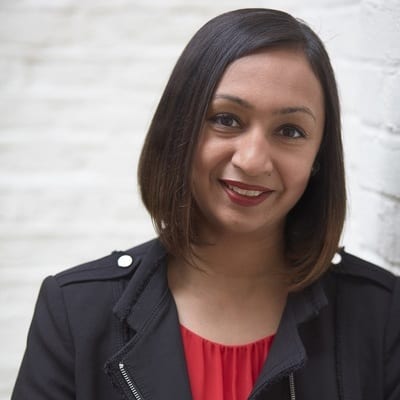 Roma Agrawal
Chartered Structural Engineer, Public Sector Framework Manager (AECOM)
SUMMARY
Chartered Structural Engineer, Public Sector Framework Manager (AECOM)
Framework manager at AECOM, identify, source and execute complex public sector projects and contracts for the London region as a supplier for a £350M public sector framework called Scape.
Senior structural design engineer, with 14 years' experience working with signature architects designing footbridges, towers and sculptures; including six years on The Shard, the tallest tower in Western Europe, designing key elements of the structure.
Experience in working at a large multi-disciplinary construction firm on an £850M tall-tower project in central London.
Engineering and STEM Advocate
Active promoter of engineering, scientific and technical careers to young people and particularly to under-represented
groups such as women. Presented to thousands of people at schools, universities and festivals in the UK and abroad.
Author of 'BUILT: The Hidden Stories Behind our Structures' (2018) with rave reviews by The Guardian and The New
York Times among others. Winner of the American Association for the Advancement of Science/ Subaru award for young adults.
Presented documentaries for BBC, Discovery Channel, and featured in many UK broadsheets, magazines and online,
given two TEDx talks about engineering.
Podcast mini-series, 'Building Stories' is on the Apple and Android platforms and has over 1000 downloads.
Experienced non-executive board member
Non-executive director for the Considerate Constructors Scheme, navigating a change of delivery contract, challenging
growth in the sector, formulating basis for new scheme strategy and associated communication.
Experience on previous boards related to the communication of science and engineering and improving diversity.
EMPLOYMENT
Apr 17 – present – AECOM: Associate Director, Framework Manager
Dec 15 – Jan 17 – Interserve Construction: Design Manager
Oct 05 – Nov 15 – WSP: Associate Director, Structural Engineer
QUALIFICATIONS & EDUCATION
2020 – Northumbria University: Honorary PhD (to be awarded)
2017 – Institution of Civil Engineers (ICE): Fellow (by invitation)
2015 – Royal Institution of Chartered Surveyors (RICS): Fellow (by invitation)
2013 – Institution of Engineering and Technology (IET): Chartered Engineer
2011 – Institution of Structural Engineers (IStructE): Fellow
2004 – 2005 – Imperial College London: MSc DIC General Structural Engineering
2001 – 2004 – Oxford University: MA (Hons) Physics
AWARDS
2019 – AAAS / Subaru Award: for book BUILT, best science book in the young adult category
2018 – Queen's Birthday Honours: MBE for services to engineering
2017 – Royal Academy of Engineering: Rooke Award for the communication of engineering
2017 – IStructE Lewis Kent Medal for dedicated service to the promotion of the profession
2016 – Listed in 'Top 50 Women Engineers in the UK' by The Telegraph and WES
2014 – ACE Awards: Consultant of the Future and Diamond Excellence Award: Winner
2014 – Women in Construction Awards: Engineer of the Year: Winner
2013 – Management Today's 35 Women under 35
2011 – IStructE Young Structural Engineer of the Year: Winner
2008 – IStructE Pai Lin Li Travel Award. Research topic: Stress-Ribbon Bridges: Winner
BOARDS & PANELS
2017 – 2019 Considerate Constructors Scheme: Non-executive Director
2014 – 2016 'Your Life' Campaign (supported by Dept. of Education): Founding member & Ambassador
2014 – 2016 Construction Industry Council: Diversity Panel
2013 – 2015 IET: Knowledge Services Board