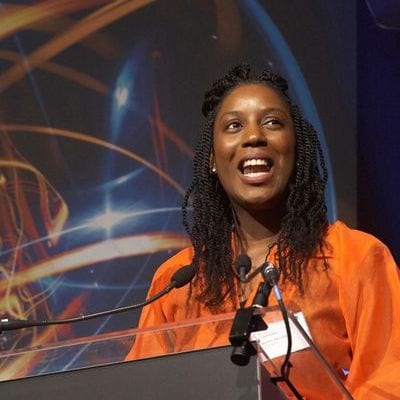 Yewande Akinola

Executive Governing Body at the University of Warwick
Yewande (pronounced Yeah-wan-day) is a chartered engineer, an innovator, a dreamer and speaker with tons of passion for the role of innovation, creativity and engineering in our world today. She holds a Bachelors degree in Engineering Design and Appropriate Technology from the University of Warwick and a Masters in Innovation and Design for Sustainability from Cranfield University. Yewande's engineering experience and responsibilities include Design and Construction, Innovation and Manufacture of buildings and systems in the built environment. She has worked on projects in the U.K., Africa, the Middle East and in East Asia. Yewande has been awarded the U.K. Society of Public Health Engineers' Young Engineer of the Year. She won the U.K. Young Woman Engineer of the Year (Institute of Engineering & Technology) and has been honoured with the Exceptional Achiever Award by the Association for Black Engineers (AFBE-UK) and the Association of Consultancy and Engineering, U.K. (ACE).
She has been named one of the UK's top 35 women under the age of 35 by Management Today and was awarded PRECIOUS AWARDS Outstanding Woman in STEM award. She sits on the Board of Trustees of the Institution of Engineering and Technology. She is on the Royal Academy of Engineering Africa CATALYST Steering Committee and is a Visiting Professor at the University of Westminster. She has recently joined the Executive Governing Body at the University of Warwick. Yewande has presented television programs for Discovery Channel, Channel 4, Yesterday TV and CBBC. In her spare time, she enjoys building models, settling into a good book, dancing and exploring new places.
Could you summarize your current role?
So I am at Laing' O Rourke and I am in charge of the innnovation here. A lot of my work involves different areas .My focus is currently on mechanical services or the ducts that bring air into the building and takes still air out and it gets super busy. We are working really hard at is taking that all away from a site, and working in factories where we've got robots, technology, people obviously, we're putting together all those systems and putting them together.
Could you tell me a bit about your background and any significant roles you've had before this?
Akinola is interested in developing water and sanitation for underdeveloped countries.She has worked on projects in the UK, Africa, Middle East and East Asia. She is the founder of the Global Emit Project, which mentors young people who are interested in engineering. In 2010 Akinola presented Titanic: The Mission for Channel 4 and National Geographic Society. In 2012 she judged the Queen Elizabeth Prize for Engineering competition to create a trophy. That year, she was shortlisted and won the IET Young Woman Engineer of the Year Award. She has also presented for CBeebies and Yesterday TV. She has appeared on BBC Radio 4. In 2014 Yewande designed a Rainwater Harvesting System. Yewande is a prominent voice in the movement to increase diversity within engineering .
In 2013 Yewande worked with Girl Guiding UK to encourage more young women into engineering. She featured in a Royal Academy of Engineering campaign "Designed to Inspire".She was featured on the QEPrize 2014 campaign "Create The Future". She delivered a keynote talk at the 2016 Ada Lovelace day celebration. She featured in the Institution of Engineering and Technology 2017 campaign "Portrait of an Engineer"
"Yeah, you know there are hundreds of women like me like working super hard to you know, raise the profile get more girls all the way to go right now!"
Pt 3
So is that what drew you to the engineering sector?
So for a long time I wanted to become an architect, I was super keen on design and would spend hours on end building these house models and architecture was definitely going to be my thing then my mom kind of, got involved and said "If you want to do engineering, there's a lot more than just houses and buildings. You have mechanical engineering, design other cars, electricity systems, water supply systems. You know, I wasn't sure at first I was like, mmmmmmm but then like, you know, what like how many years after I have no regrets. What I had to do is I've had to make, you know, engineering like super interesting and super creative for myself, and I've done that by just you know, obviously seeing engineering around me, like looking for the engineering around, and being part of the engineering around me so from train stations to buildings to hotels and resorts, so yeah, it's been fun.
My first job after graduation was with an amazing organization called Arup. I pretty much developed my ability to design whilst I was with them and I would design mechanical systems & buildings. I would design water supply systems, I worked on really cool projects out there in the Far East in the Middle East as well in Africa as well and it's just the fact that I was able to apply my basic design knowledge and creativity in so many different countries and solving different problems as well that really really like, you know, kind of seals my passion. Don't get me wrong, there are days where I get super frustrated, like "grrr, why aren't things moving as fast as I want them to move? Why aren't people adopting technologies that I think would be amazing in the construction world?" But yes, but I can pretty much say like most of me is like, in it right like yes.
What is the greatest contribution you have made to the sector or your org? And what would you name as your greatest achievement?
You know, I think my contributions have been, not one single project, but the fact that you know what I design schools in the UK, I've designed super high rise buildings in China and I've designed water supply systems in Ghana and in Mozambique. I feel like you know, leaving that mark you know in lots of different countries and different types of project makes an impact on different people's lives. Probably, you know, like my greatest satisfaction.
Is there anything else significant you have received like awards or recognition? For doing what you do, like with any of those projects that you were talking about?
1998 – Nigerian National Mathematics Award
2009 – UK's Society of Public Health Engineers Award for Young Rising Star
2012 – Exceptional Achiever Award by the Association for Black Engineers (AFBE-UK)
2012 – Young Woman Engineer of the Year from the IET
2013 – Management Today's top 35 women under 35
2014 – PRECIOUS Award for Outstanding Woman in STEM
Young woman engineer of the year award and the management today award should be you take 35 under 35.
AFP exceptional achiever awards, but I can only be…the honest truth right, some of them …….like some of them like I'm obviously super grateful for and some of them you actually have to put yourself more and I'm not good at putting myself forward.
Did you face any barriers navigating through the sector and were any of these on the basis of your gender? How did you overcome those barriers?
Yeah, of course, you know, not a daily basis, but you know, like, you know, the one thing I constantly have to do is prove my worth and demonstrate that I've actually got the skills and the intelligence and knowledge. It's just that thing, you know of you're going to a meeting and they don't know who you are. They have heard of all of your work and oh "Oooh, Who is she, why is she here?" "What does she bring to the table?"
You know that thing constantly having to prove yourself, you kind of get into the flow of "yes. It is what it is and I'm going to like bring my church that table every single time. I'm going to raise the game rooms or whatever it is."
I think that the higher you go, the better you see how companies work. You know what, a black woman is not the first image you have in your head when you think about an engineer, much less a woman of color. They think "Is she a secretary? Or an engineer for real?."
How do you think the sector is doing from a diversity perspective? Some people say it's getting better. Some people say it's not so interested to see where you where you sit.
I think that's because we're talking about it and we're calling it out, you know, and I always feel like that's that's the that's the starting point the fact that you know, people are saying "You know what this is unacceptable, you can't do this" and that is you know, setting things straight but there's still a lot of work to be done, it's ridiculous how much work there is to be done? Because you know that young people still get unnecessary comments, you know, and yes so still work to be done by think we're making progress but like everything right, you know, I mean like we're still pretty much fighting for women's rights, aren't we right? You know still fighting and we're going on now what a hundred plus years?
What do you think the sector could do in terms of improving diversity and being more representative of people from different backgrounds?
I think there are two sides to the story. I think that part of the responsibility lies with all female engineers,we need to get out there, we need to be visible, we should be calling the shots. We need to be talking about what we do. We need to be shouting stuff out if we need to. Then there's a big massive piece about organisations and organisation culture and leaders in organisations need to be very vocal about their positions regarding diversity and inclusions and ensuring that women are welcome and women will survive in this environment and pretty much be supported as much as they need to be supported.
How would you define your influence within the sector with that with that being said, how do you think there's anything in particular you'd like to reference that demonstrates your influence so far?
Okay, so I'm going to use the word strategy, but it isn't strategy. You know when you are grown and coming into yourself and your separate experiences are coming into one? Well i sit now on the board of engineers and technology
and I use my position there to be very vocal about my thoughts on diversity and inclusion and about engaging young people as well. I use you know, the platforms I have, whether it's television or radio or online campaigns and to speak up as well. And when I walk into meetings and I'm sitting my colleagues I'm able to bring my knowledge and experience from working in China working in the Middle East and all these different countries to say, "You know what there's a different perspective on things " and then I've recently become a visiting professor at the University of Westminster and for me, having the opportunity to equip a diverse group of people in a university environment trying to say to them. "You're going into industry these are the things you need to be aware of." You know, the industry and this is how you will transform our future.
What advice would you give to someone looking to be successful in the sector?
Okay, so in terms of. In terms of giving maybe advice to a young lady that would like to make a start with an engineer. What advice would you give her?
I would say You know, give three questions to ask yourself. Why am I doing this? Am I interested in creativity? Am I interested in solving world problems? Am I interested interested in designing, carving the skylines of the city's
I live in and have lived in? you know, ask yourself the question. That's the starting point, you know and the next one is more of a statement, right? Engineering is a journey, right? It's not a final destination. You can be any type of engineer you want to be and then many types of engineers that you want to be. I think the problem with a lot of young people and we have is thinking "Oh my gosh, I'm going to go into something and I'm going to be stuck." The thing I always say to people is, you know what you can be as in many things as you're interested in. I use myself as an example. Like one minute my head is in engineering and the next day in television and presenting and the next thinking about another side hustle somewhere. You can be as many things as you want to be. I'm just like, you know, like make yourself feel a lot freer by convincing yourself that you're not going into something that you're going to get stuck in.
The final thing is you have an opportunity to to be the change that you want to see. Go for it, all the things that stop you from being who you want to be, growing the way we want to grow, are pretty much perceptions. In 2019 we must recognize that anything is possible.